What is the NUTRIC Score?
The Nutrition Risk in Critically ill (NUTRIC) score is the first nutritional risk assessment tool developed and validated specifically for ICU patients (1). The recognition that not all ICU patients will respond the same to nutritional interventions was the main concept behind the NUTRIC score, as most other risk scores and assessment tools consider all critically ill patients to be at high nutrition risk. Below is a summary of the components of the NUTRIC score. An online calculator can be accessed
here
.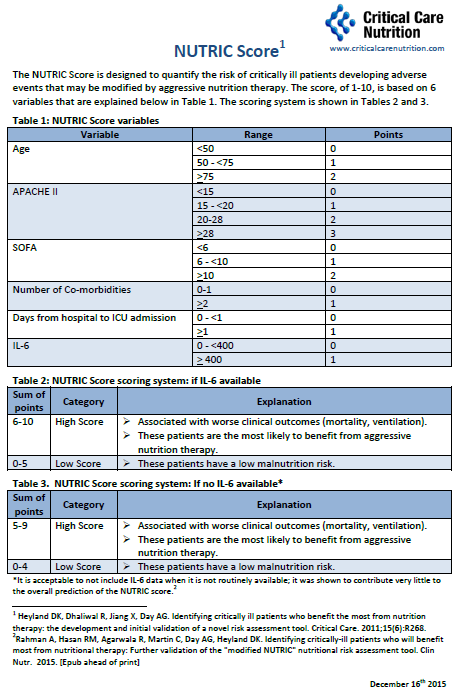 Click the pdf links below to download copies of the above summary in three languages:
English
Version: December 16th 2015
French
Version: December 16th 2015
Portuguese
Version: March 19th 2013
Greek
Version: April 26th 2017 Contact: Michael Chourdakis (

This email address is being protected from spambots. You need JavaScript enabled to view it.

)
Italian
Version: April 2017
Co-morbidities - click the image below to expand the list of co-morbidities used in the NUTRIC Score.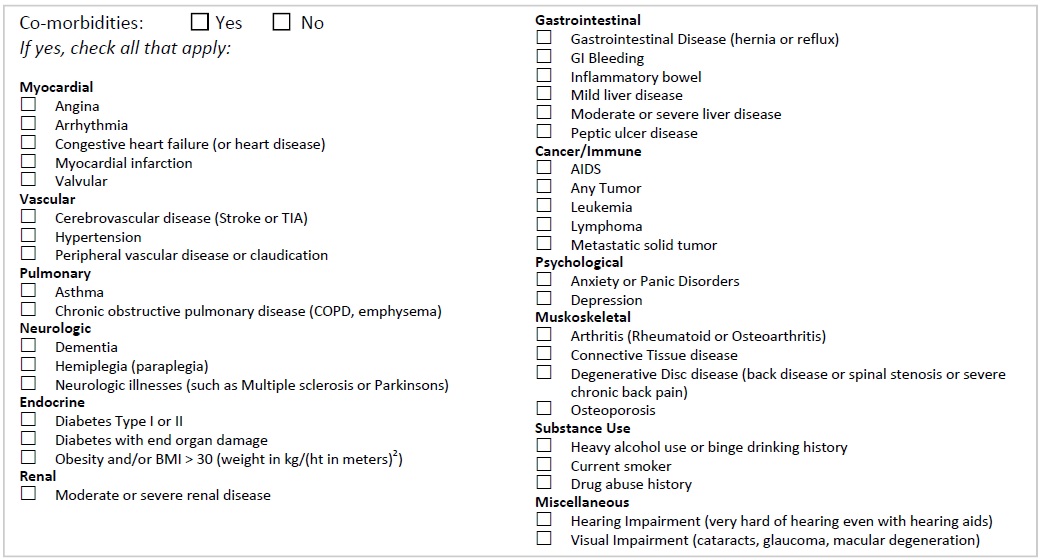 Publications
To date, there are three publications on the NUTRIC score:
1) Heyland DK, Dhaliwal R, Jiang X, Day AG. Identifying critically ill patients who benefit the most from nutrition therapy: the development and initial validation of a novel risk assessment tool. Crit Care. 2011;15(6):R268.
2) Rahman A, Hasan RM, Agarwala R, Martin C, Day AG, Heyland DK. Identifying critically-ill patients who will benefit most from nutritional therapy: Further validation of the "modified NUTRIC" nutritional risk assessment tool. Clin Nutr. 2016;35(1):158-62.
3) Rosa M, Heyland DK, Fernandes D, Rabito EI, Oliveira ML, Marcadenti A. Translation and adaptation of the NUTRIC Score to identify critically ill patients who benefit the most from nutrition therapy. Clin Nutr. 2016;14:31-36.
4) Mukhopadhyay A, Henry J, Ong V, Leong CS, Teh AL, van Dam RM, Kowitlawakul Y. Association of modified NUTRIC score with 28-day mortality in critically ill patients. Clin Nutr. 2016. (Epub).
5) Compher C, Chittams J, Sammarco T, Nicolo M, Heyland DK. Greater Protein and Energy Intake May Be Associated With Improved Mortality in Higher Risk Critically Ill Patients: A Multicenter, Multinational Observational Study. Critical Care Medicine 2017;45:156-63.
6) McClave SA, Taylor BE, Martindale RG, et al. Guidelines for the Provision and Assessment of Nutrition Support Therapy in the Adult Critically Ill Patient: Society of Critical Care Medicine (SCCM) and American Society for Parenteral and Enteral Nutrition (ASPEN). Journal of Parenteral and Enteral Nutrition 2016;40:159-211.
7) Mendes R, Policarpo S, Fortuna P, Alves M, Virella D, Heyland DK. Nutritional risk assessment and cultural validation of the modified NUTRIC score in critically ill patients-A multicenter prospective cohort study. Journal of critical care 2017;37:45-9.
8) Coltman A, Peterson S, Roehl K, Roosevelt H, Sowa D. Use of 3 tools to assess nutrition risk in the intensive care unit. JPEN Journal of parenteral and enteral nutrition 2015;39:28-33.
9) Heyland DK, Dhaliwal R, Wang M, Day AG. The prevalence of iatrogenic underfeeding in the nutritionally 'at-risk' critically ill patient: Results of an international, multicenter, prospective study. Clinical Nutrition 2015;34:659-66.
10) McClave SA, Martindale RG, Rice TW, Heyland DK. Feeding the Critically III Patient. Critical Care Medicine 2014;42:2600-10.
11) Kozeniecki M, Codner P, Heyland DK. Identifying nutritional risk in critical illness. Current Pulmonology Reports 2017;6:48-53.
12) Moretti D, Bagilet DH, Buncuga M, Settecase CJ, Quaglino MB, Quintana R. STUDY OF TWO VARIANTS OF NUTRITIONAL RISK SCORE "NUTRIC" IN VENTILATED CRITICAL PATIENTS. Nutricion Hospitalaria 2014;29:166-72.
13) O'Hanlon C, Dowsett J, Smyth N. Nutrition Assessment of the Intensive Care Unit Patient. Topics in Clinical Nutrition 2015;30:47-70.