Congratulations to the Top 10 best performing sites from the INS 2014!
Continue to read below on what makes the Best of the Best sites successful. More to come soon.
Place
Site
1st
The Alfred ICU, Australia
2nd

Sunnybrook Health Sciences Centre Ross Tilley Burn Centre, Canada

1st place among burn sites

3

rd

Milpark Hospital Burns Unit, South Africa

2nd place among burn sites

4th
St. Vincent's Hospital Melbourne ICU, Australia

5

th
Redcliffe Hospital ICU, Australia
6th

The Ohio State University Wexner Medical Center Surgical ICU, USA

3rd place among burn sites

7th
G. Kuppuswamy Naidu Memorial Hospital MICU, India

8

th
Royal North Shore Hospital ICU, Australia

9

th
Groote Shuur Hospital Neuro ICU, South Africa
10th
Milpark Hospital Trauma ICU, South Africa
---
The Alfred ICU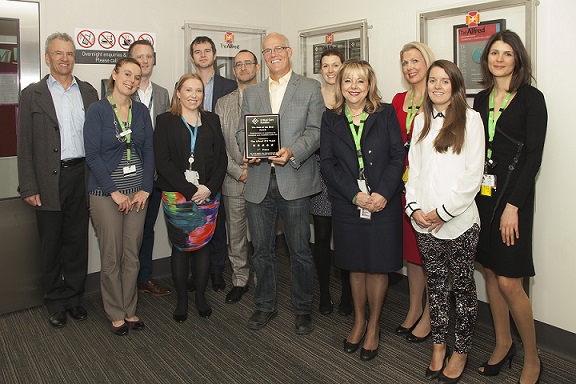 From left to right: Prof Jamie Cooper, Dr Susannah King, RD, Dr Andrew Udy, Emma Ridley, RD, PhD candidate, Dr Owen Roodenburg, Prof Carlos Scheinkestel, Dr Daren Heyland, Emily Dynon, RD, A/Prof Ibolya Nyulasi, Liz Purcell, RD, Louise Becroft, RD, Ana Monteiro, RD (missing: Kate Moore, RD)
---
Sunybrook Health Sciences Ross Tilley Burn Centre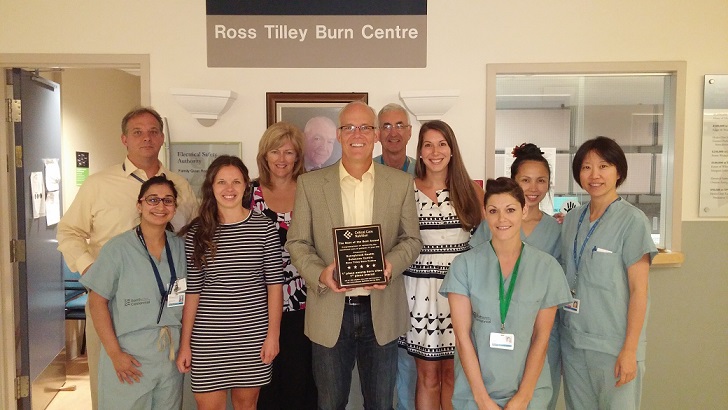 From left to right: Dr. Marc Jeschke (Director), Suna Girn (RN), Rosemary Hayhoe (RD), Karen Smith (Patient Care Manager), Dr. Darren Heyland, Gary Ackerman (RT), Katelynn Maniatis (RD), Claudia Cocco (RN), Michelle Cornelio (RN), Wei Zhang (RN)
"Our success in enteral feeding is related to a combined effort amongst the entire interprofessional team. We have implemented a number of protocols and standards that have contributed towards improved nutrition practices. These include the use of a volume-based feeding protocol to make up missed feeds; minimizing perioperative NPO times, NJ tube insertion by nurses at the bedside, and standardized admission order sets that include early initiation of feeds and the prompt implementation of micronutrient delivery. The clinical dietitian is an active member of the team and regularly re-assesses nutrient requirements, and the physicians, nurses and respiratory therapists play a critical role in ensuring nutritional goals are met on a daily basis."
---
St. Vincent's Hospital Melbourne ICU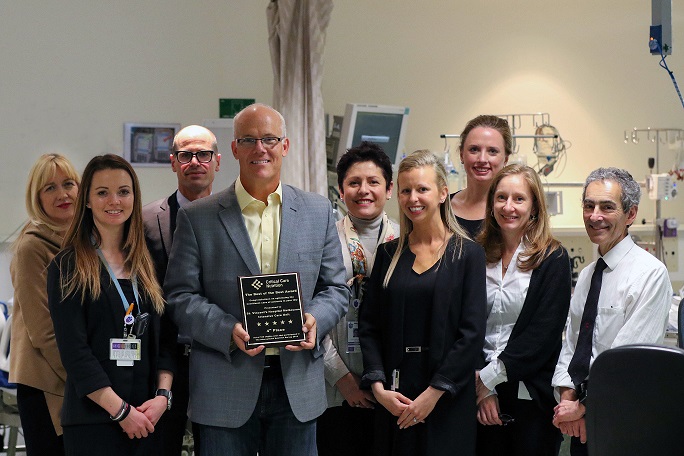 From left to right: Cynthia Dowell (Chief Nursing Officer), Jamee Barugh (Dietitian), Dr. Antony Tobin (Deputy Director ICU), Dr Daren Heyland, Catherine Carbery (Nurse Unit Manager), Katherine Hastie (Dietitian), Belinda Smith (Acting General Manager Speciality Services ), Jennifer Holmes (Research Nurse ICU), Dr. John Santamaria (Director ICU).
"Our whole Intensive Care team contributes to our consecutive success. We have a feeding algorithm so enteral tube feeding is commenced promptly, including after hours, and rates increased to target following clear guidelines. Our nurses play a vital role in initiating feeding and reducing interruptions. Many of our Intensivists have a keen interest in Nutrition and are highly supportive of the Dietitian role in the Intensive Care setting. Nutrition is included on the Doctor's checklist for morning and evening ward rounds which is a prompt to confirm if feeds have been commenced and for nurses to report if feeds are at target rate. A Dietitian visits the ICU six days per week (Monday – Saturday). Any Dietitian covering the ICU has completed competency based training, so optimal nutrition care is maintained. Participation in regular nutrition audits and nutrition in-services from the Dietitian has helped keep motivation and enthusiasm levels high for ongoing success."
---
Wexner Medical Centre Surgical ICU
Not only did this ICU place well among all sites and burn sites in the INS 2014, they are the first American site to place in the top 10 of the Best of the Best. Click
here
to read a local Columbus Ohio newspaper article on the ICU's nutrition success.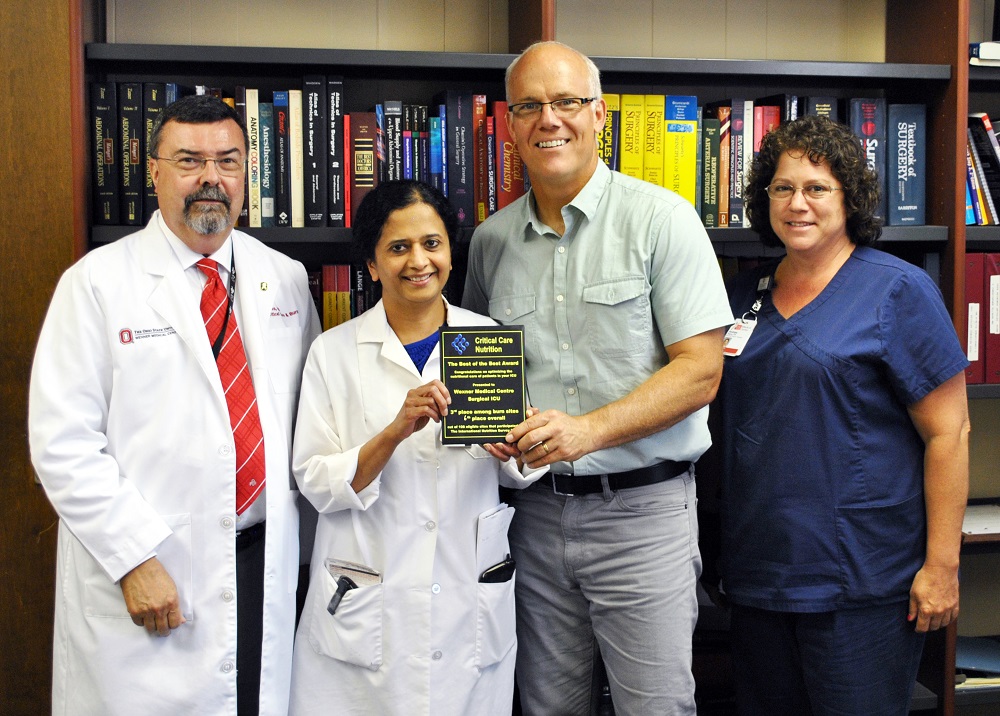 Picture left to right: Dr. Larry M Jones, Director of the Burn Center; Sheela Thomas, RD for the SICU and Burn Center; Dr. Daren Heyland; Andrea Bidley, Burn Program Manager
---
G. Kuppuswamy Naidu Memorial Hospital ICU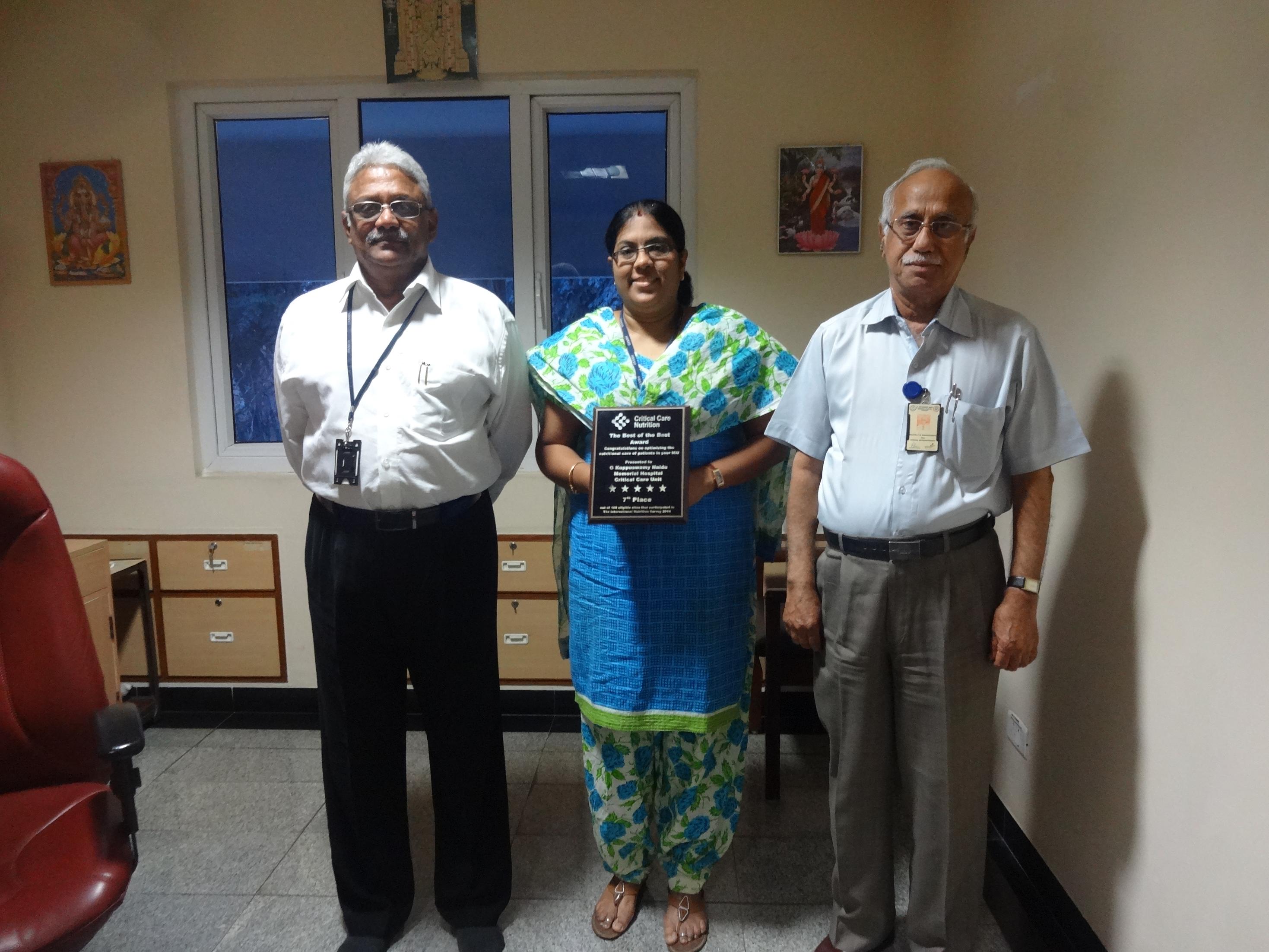 Chief Dietitian Mrs. J Vidhya pictured above with Dean Dr. Ramkumar Raghupathy and Medical Superintendent Dr. (Col.) T.B. Ramakrishnan.
"Our success is attributed to the strong leadership in the ICU. There is a real sense of team work in the ICU with great collaboration and communication. Our dedicated ICU team has complete awareness and appreciation of the importance of nutrition in patient care. Our clinical team head provides continued medical education to the critical care staff nurses and dietitians. We use a protocol and pre-printed nutrition prescription so that nutrition is initiated and maintained based on the need of the patient. The algorithm includes standing orders for nurses and dietitians and each day it is prescribed and reviewed based on the need of each patient in Critical Care. This is a big boost for our department where the practice was previously to keep all patients fasting overnight and that was changed 2 years ago to a 24/7 fully functional critical care nutrition therapy. We also have a state of the art formula preparation room where formulas are prepared under a laminar flow with full sterile precautions by a trained dietary personal every 4 hours for all patients on Critical Care. We have definitely grown and learnt through this journey over the last years and this award is such an encouragement for our work culture and colleagues. We always thank our administration for their ongoing support and new set ups they provide us on an ongoing basis."
---
Royal North Shore Hospital ICU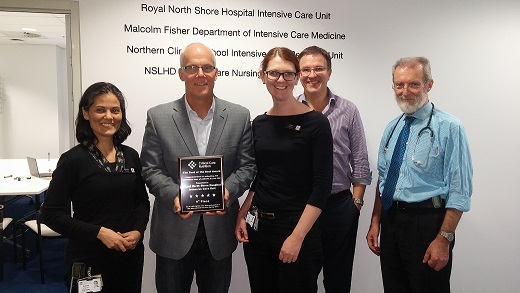 From left to right: Deirdre Mathai, RD, Dr Daren Heyland, Gwen Hickey, RD, Dr Roger Harris, Dr Ray Raper
"We have a strong culture of early feeding, which is supported by the multi-disciplinary team."