REducing Deaths due
to OXidative Stress
A randomized trial of glutamine and antioxidant supplementation in critically ill patients. Synopsis/Overall Hypothesis: The provision of high dose glutamine and antioxidants to critically ill patients with evidence of organ dysfunction early in the course of their stay will be associated with improved survival.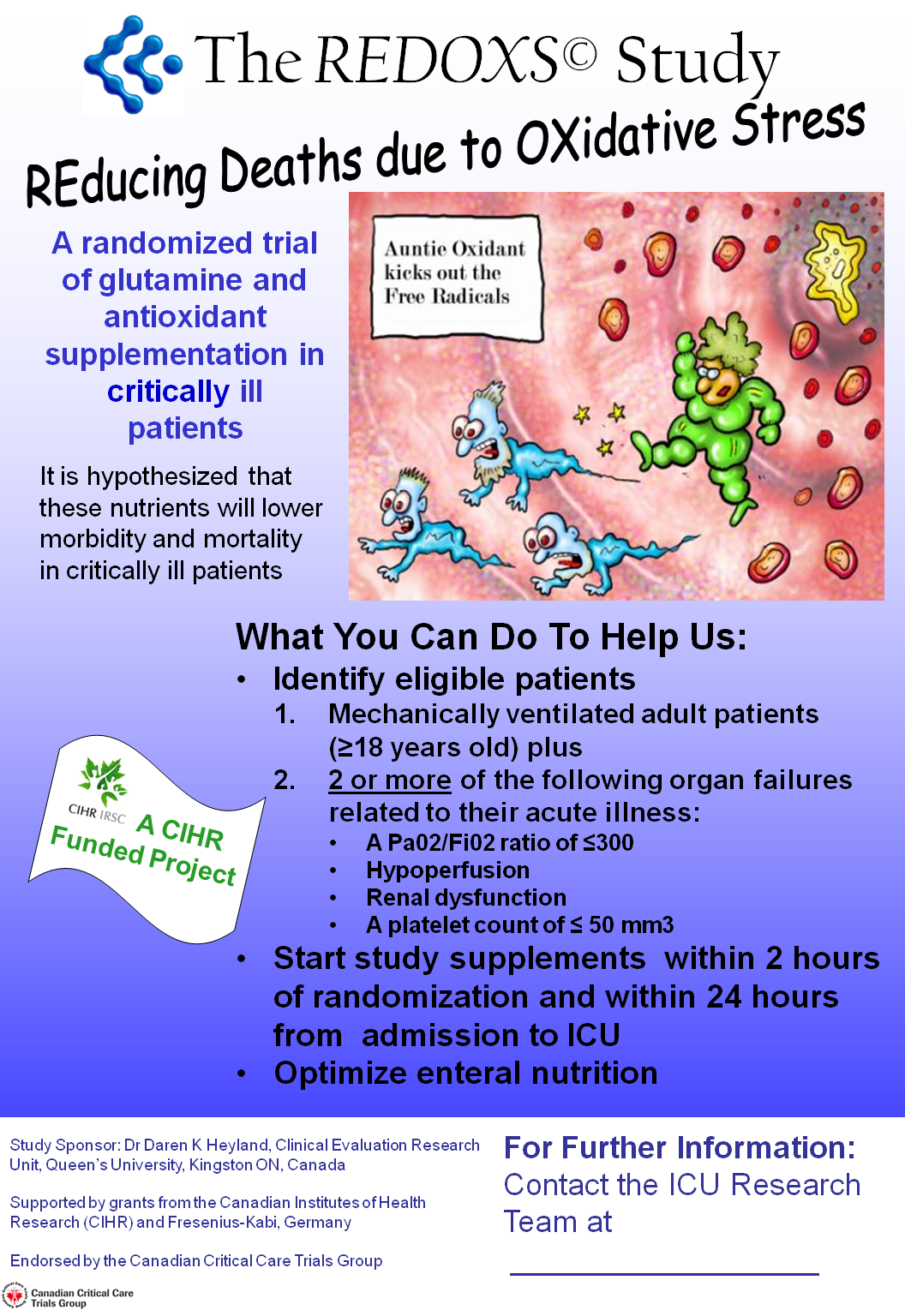 Background: Critically ill patients experience a degree of hyper-inflammation, cellular immune dysfunction, and oxidative stress. Supplementation with key nutrients, like glutamine and antioxidants, is most likely to have a favourable effect on these physiological parameters leading to an improvement in clinical outcomes. The results of two separate meta-analyses suggested that glutamine and antioxidants may be associated with improved survival. We have recently completed a dosing study to determine the maximal tolerable dose (MTD) of glutamine dipeptides and antioxidants in critically ill patients with evidence of organ dysfunction. As we escalated the dose of glutamine and antioxidants, we observed a greater reduction in markers of oxidative stress, greater preservation of glutathione and improved mitochondrial function with no apparent adverse effect on organ function. The results suggest the doses proposed in the REDOXS© study were safe. The purpose of this protocol is to evaluate the effect of high dose glutamine and antioxidant supplementation on mortality in a large scale randomized trial.

Study Design: A multicenter randomized, clinical trial with a factorial 2X2 design. Study Intervention: Patients will be randomized to receive glutamine supplementation or antioxidant supplementation (or respective placebo). Glutamine will be provided parenterally as Dipeptiven® at a dose of 0.35 grams/kg/day and enterally delivered as alanyl-glutamine and glycine-glutamine dipeptides at a dose of 30 gms/day. Antioxidants will be provided parenterally as Selenium 500 µg, and the following vitamins and minerals administered enterally: Selenium 300 µg, Beta Carotene 10 mg, Vitamin E 500 mg, and Vitamin C 1500 mg. Following enrollment, study nutrients (or respective placebos) will be started as soon as possible, be administered continuously, and will continue until death or discharge from ICU for a maximum of 28 days. All patients will be fed according to Canadian clinical practice guidelines for nutrition support; enteral feeds will be initiated as per clinical practice.

Outcomes: The primary outcome for this study is 28-day mortality. The secondary outcomes are duration of stay in ICU, adjudicated diagnosis of infection, multiple organ dysfunction, duration of mechanical ventilation, hospital length of stay, and survival and health-related quality of life at 3 and 6 months.
Significance: This trial represents a significant paradigm shift in the way critically ill patients are managed with its emphasis on nutrients dissociated from nutrition per se. The design may favourably influence future trials in this field. Secondly, if the trial is positive, the results will be used to inform the clinical practice of nutrition support around the world. The therapeutic strategies tested in this randomized trial may lead to less morbidity and improved survival in critically ill patients.
Funding: This study is funded by the Canadian Institutes of Health Research. The enteral and parenteral study nutrients are supplied by Fresenius Kabi, and the Selenase® in Europe is provided by Biosyn. Dr. Daren Heyland is considered the "Sponsor". Participating sites are reimbursed at $2125.00 CDN per completed eligible patient.
Status of the Study: Completed. The study has been published in the New England Journal of Medicine. Click here to learn more and view the article.


Questions:
Daren Heyland
Study Chair
Email: This e-mail address is being protected from spambots. You need JavaScript enabled to view it

Rupinder Dhaliwal
Email: This e-mail address is being protected from spambots. You need JavaScript enabled to view it
Janet Overvelde
Email: This e-mail address is being protected from spambots. You need JavaScript enabled to view it

April 2013

For details on study design and rationale click here.